I subscribed to receiving prayer alerts from The Voice of the Martyrs, a wonderful organization which is reaching out to persecuted Christians who need encouragement.  Here is a prayer alert for a mother and daughter who are under fire for their faith.  Please read their story and visit the prayer wall and offer your prayers for their safety.  I am so thankful that I live in a country where there is religious liberty and have a husband who shares my faith.  Let us lift up our voices in prayer for those who face opposition from their communities and family members who do not share their faith.
SYRIA: Mother and Daughter Persecuted for Christian Faith
Sources: VOM USA, Release International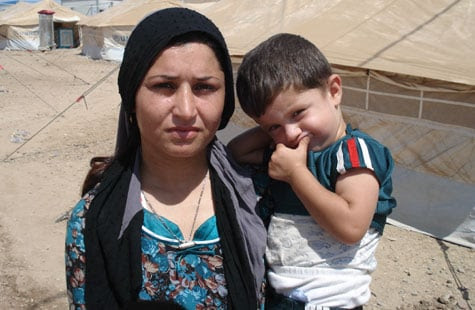 Pray for safety of family members standing strong for the Lord.
A Syrian mother and her daughter are under fire for their new Christian faith. Three years ago, "Karima" learned about the love of Jesus and became a devoted follower. As the married mother of three, she hoped her husband "Ismaeil," a Muslim, might also believe. Instead, he became even more devoted to his Muslim faith and trained as an imam (an Islamic spiritual leader).
Ismaeil forbade Karima and their daughter, who had also converted to Christianity, from reading the Bible or sharing their faith with others. About two months ago, he also began beating Karima. Fortunately, recent health challenges have prevented him from abusing her further.
Elsewhere in the country, other Christians are facing opposition from Islamic radical groups. Much of the north, for example, has come under the control of militant groups attempting to impose a strict Islamic ideology on the area.
Pray that God will shield and protect Karima and her daughter, surrounding them with His favour (Psalm 5:12). Also lift up her son who has recently started attending church. May his faith grow and be deeply rooted. Pray that Ismaeil will repent of his abuse toward his wife and recognize his need for a Saviour, joining his family in worshipping the one true God. Please also intercede on behalf of all believers throughout Syria, that they will continue to follow Jesus at any cost.
To share your own prayers for Karima and her family, please visit our Persecuted Church Prayer Wall.